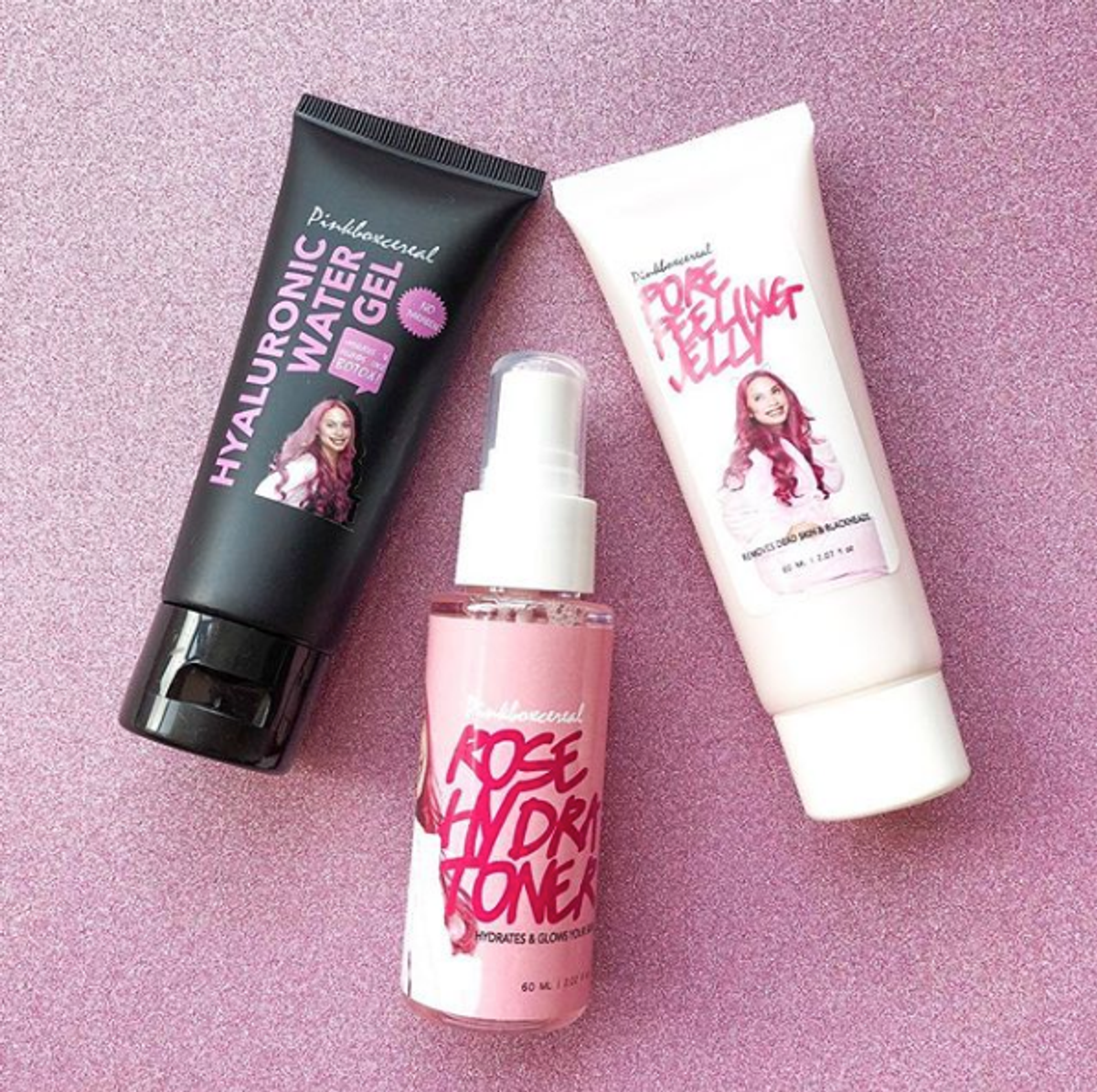 Blackheads? Dry Skin? Oily skin? Badddd skin?
.APA TU HYDRA KIT?
.
Kenapa ramai sangat yang pakai?
Macam mana nak pakai?
Apa benefits bila pakai?
.
So, apa tu Hydra Kit?
Hydra Kit ni ada 3 water-based products in one set which is :
.
1x Pinkboxcereal Pore Peeling Jelly
1x Pinkboxcereal Rose Hydra Toner
1x Pinkboxcereal Hyaluronic Water Gel
.
Now, lets get to know them 1 by 1.
.
Pinkboxcereal Pore Peeling Jelly
Pore Peeling Jelly ni kita guna untuk exfoliate muka. Kalau kita jenis yang selalu kerja di luar (kena asap kereta, dirts dll), we should exfoliate. So everytime bila nak mula skincare routine, start with exfoliating with the Pore Peeling Jelly on a dry face. Jangan muka basah okay? It needs to be dry so you can see all the dirt jatuh ke bawah. Do this consistently & you will start seeing less blackheads & deadskin!
.
Pinkboxcereal Rose Hydra Toner
Selepas kita cuci muka dengan facial cleanser, spray Rose Hydra Toner ke muka. Ini adalah untuk ketatkan pori-pori & prep muka sebelum steps yang selanjutnya. Rose Hydra Toner juga ada fungsi antibacterial tau! If your skin feels "tired", just spray & feel re-energized!
.
Pinkboxcereal Hyaluronic (HA) Water Gel
The miracle water gel! Ramai dolls yang cuba HA & never look back. We are also happy to know that many MUA's dah mula gunakan produk ni untuk preparation sebelum makeup! HA Water Gel ni kita guna selepas menggunakan toner, dan sebelum menggunakan produk lain seperti serum & moisturizer). HA Water Gel akan mengekalkan kelembapan kulit lebih lama & juga menegangkan kulit. Tak payah tunggu 3 bulan, lepas kering je kita boleh rasa kulit dah mula tegang! Tapi apa pun, yang paling penting HA Water Gel hydrates your skin!
.
So now you know what is the Hydra Kit!
xoxo
Bear